Book #4 - Chevelle Restoration and Authencity Guide 1970-1972
With my third book finished, I was asked to do a fourth book. We have a finalized contract and a working title of Chevelle Restoration and Authenticity Guide 1970-1972. This effort will be co-authored with Rick Nelson, owner of Musclecar Restoration and Design, so you may be assured of getting some of the best information available on restoration.
While the book will concentrate on the 1970-1972 model years, much of the same procedures and decisions you will be faced with will be applicable to all Chevelles.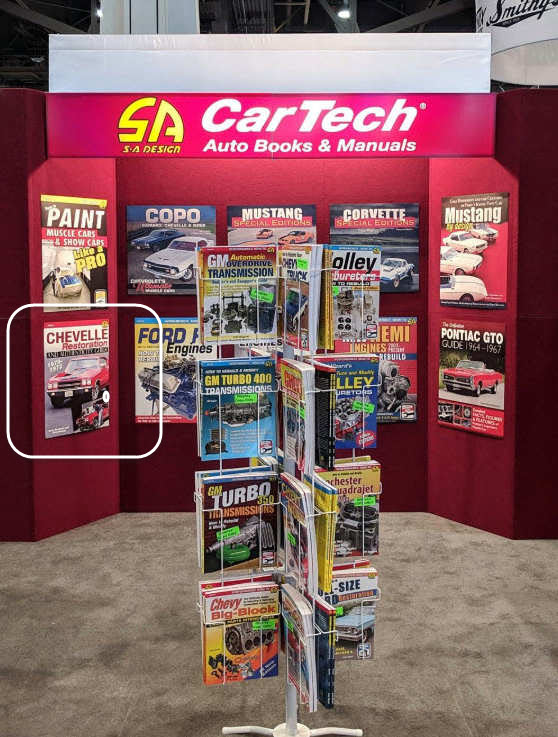 A bit of promotional work at SEMA - October/November 2018
Chevelle Restoration and Authencity Guide 1970-1972 general outline
The general outline structure for content and images of components where available and applicable.
Introduction
The Acquisition
Getting Started
Repair or Replace
Chassis/Suspension/Brakes
Engine/Transmission/Rear End
Body/Paint
Electrical
Interior
Details
Appendices

Check List Before Buying
Abbreviations/Terms
Flint/Tonawanda Engine Assembly Process
Driveshaft Colors
Markings/Tags
Contact me through my Contact link above with any questions. You, or the photographer, must have rights to grant the photo's use.
Samples of what can be used; note these are only reduced in size here for convenience.
Before and after photos of any markings found.
Various engine photos - big or small block - but must be as stock appearing on the outside as possible

Battery tray - before

4-speed pedal assembly before

Body being removed from frame

Body going back on frame

Engine tune labels

Early 1970 Monte Carlo headlamp trim

Tire stencil - 1970

Tire stencil - 1972

Shifter components - before and after

Shifter assembly - exploded and assembled
Some of the restoration photos in our Chevelle Restoration and Authencity Guide ~ 1970-1972 book.