Book #2 - Muscle Cars In Detail #1 - 1970 Chevrolet Chevelle SS
My 1970 Chevrolet Chevelle SS: In Detail #1 book explores the world of arguably the most popular Chevelle of all time, the 1970 Malibu sport coupe, convertible, and sedan pickup with one of two SS Equipment options - the venerable SS396 and the new SS454.
This book covers the two SS options, SS 396 and SS 454, and what those two options came with as standard equipment and what was available as options. My 1970 Chevrolet Chevelle SS book is the first in a series of MUSCLE CARS IN DETAIL by Car Tech Books of muscle cars of the era.
Over 100 color and b/w photos of the cars, interiors, engines, and various options are found in this 6x9 guide. Facts are shown with documented proof and many, many myths and misconceptions are dispelled. Included are some rare photos of several design concepts and options contemplated for the 1970 Chevelle from GM's archives.
Two of the eras most successful quarter-mile race cars are highlighted, the Ray Allen driven, Truppi/Kling tuned LS6 convertible that dominated SS/EA drag racing and the SuperBird from Chrysler with a 512-cubic inch "cheater" engine expressly built to taking out the Chevelle. Also highlighted is Bob Hamilton's well-known "Red Alert" LS6 sport coupe. This SS/DA Chevelle actually started life as a present for Mr. Hamilton's wife with options like power windows, vanity mirror, AM/FM stereo tape player and tilt steering column before finding its way to the drag strip.
General outline structure for content and images:
Introduction
Concepts/Design
Marketing/Promotion

Movies

Jack Reacher - Tom Cruise
John Wick - Keanu Reeves
The Fast and the Furious 4 - Vin Diesel
Surviving Christmas - Ben Affleck
Melba Toast

Hardware
Engine codes/photos
Transmission codes/photos
Prop Shaft stripe codes/photos
Rear end codes/photos
F41 - power disc brakes
Paint codes
Vinyl/convertible tops
Hoods (domed vs. ZL2)
Chassis Markings

Transistional/Legacy/Values
Appendix

How many of anything were built
L78/LS6
This book is currently available at Car Tech Books, Amazon.com, Barnes & Noble, Summit Racing, Jegs, Ground Up, a number of eBay sellers, and maybe even your local book store!
Book Credits - Reader's comments
Some of the beautiful Chevelles in my 1970 Chevrolet Chevelle SS: IN Detail #1 book with photo credits.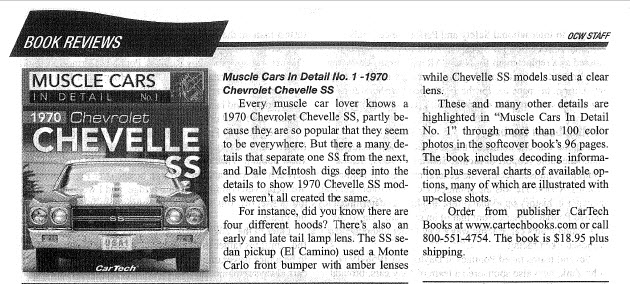 Old Car Weekly - April 20, 2017
---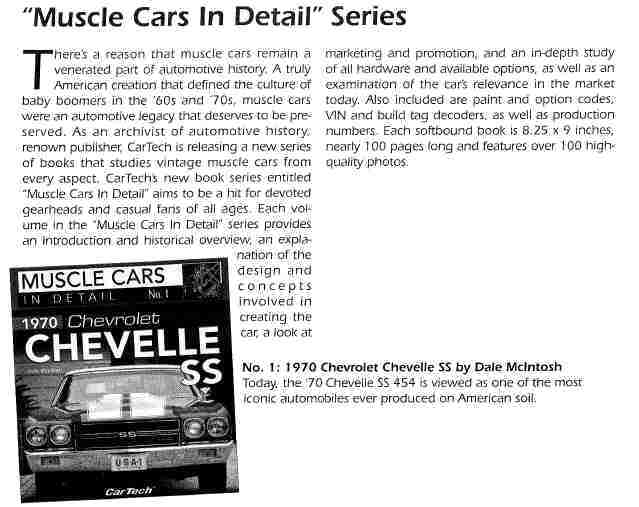 NSRA Street Scene - November 2017